Welcome to New Stepping Stones School

From Principal's Desk

As a Principal I aspire multi-dimensional growth of the students/ learners in the field of social, economic and cultural sector through providing education in such a formative way so that each one of them may enjoy ones life in his own way without causing harm to others. I feel and affirm that the educator is a torch bearer to those living in dark. But the educator must be brave enough not to provide the assistance for a larger period otherwise instead it can be harmful to the learners.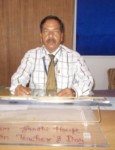 Mr. Hari Yogveer Saint, Principal

Focused curriculum to perform well in the board exams.
Provide special coaching classes to all slow learners to bring them to required standards.
A wide collection of books on diverse subjects in a well-equipped library for frequent use by students and teaching staff.
Extra cirricular activities to develop the potential in children in arts & crafts and surface innate potential.
We have prioritized spoken and written english for all our students . Special classes for improvement in handwriting and conversation from I to Vth are conducted daily.
A state of the art computer center has been dedicated to the Prep school students. Here opportunities are provided to enable children to benefit through use of interactive education CDs.
A well equipped library offers a wide collection of books for frequent use by Prep. children .
Extra coaching classes are provided for slow learners.